Improve equipment reliability in some of the most challenging environments on earth—and beyond.
GracoRoberts is proud to be a distributor of 3M Aerospace. 3M™ Nextel™ Ceramic Fibers and Textiles enable and protect critical equipment when the heat is on.
Both lightweight and durable, Nextel™ ceramic fibers and textiles are designed to meet today's most demanding thermal, mechanical and electrical performance requirements. Made of continuous ceramic oxide fibers, Nextel™ products are available in a variety of forms, including chopped fibers, sewing threads, braided sleevings and woven fabrics. Used in spacecraft for heat shielding and impact protection, Nextel™ products also offer reliable performance in civilian and military aircraft in applications ranging from firewalls to CMC exhaust components.
Features, Benefits, and Uses
Designed to maintain strength and flexibility under a variety of extremely high temperature conditions
Heat, flame and oxidation resistant
Chemically resistant
Lightweight
Electrically insulating
Flexible
3M™ Nextel™ Yarns 312 and 440 are made from continuous Nextel Alumina-Boria-Silica fibers and are designed for high temperature applications where their primary purpose is to insulate or to act as a flame barrier.
3M™ Nextel™ Ceramic Structural Rovings and Chopped Fibers 610 and 720 are made from continuous ceramic fibers and are designed for structural applications where their primary purpose is to reinforce composites.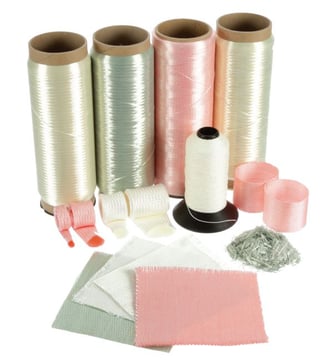 More Resources
Browse our comprehensive TDS SDS Library or shop our full 3M Product catalog.
If you require 3M Nextel products and would like to request a sample, contact us to schedule a free consultation.